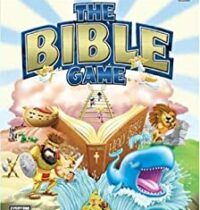 Learn about the Bible while you have fun with the whole family

Test your knowledge with quiz challenges, and test your skill with lots of action

Fast-paced "Beat the Buzzer" TV game show type action

Includes 20 mini-game and micro-game challenges based on inspirational biblical teachings
Video Games
---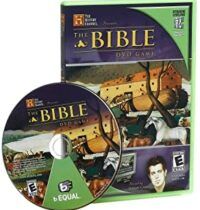 Bible Challenges are interactive multiple-choice question and answer Bible games played on DVD. The Bible Challenge: King James Version Complete contains the entire New & Old Testament narration synchronized with the scriptures on the screen. So put on your thinking cap, pop these DVDs and get ready for a Bible quiz like no other.
Q&A Game Features:
o More than 600 Bible Challenge Questions
o Questions are random. There are different questions every time you play.
o Up to 4 players can play at the same time
o Automatic score keeping
o Plays on any DVD player or computer with a DVD drive
o Game instructions included
o Narrated by Stephen Johnston
For more information on this product ⇒⇒Click Here⇐⇐
Featured Brands
---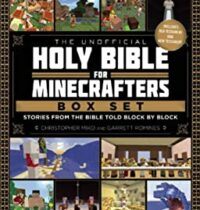 These full color books allow parents to teach beloved Bible stories to their children with images from Minecraft. Includes stories from both the Old and New Testament as they've never been seen before, Handsome two-book box set!
Minecraft has swept the world by storm. More than one hundred million games have been sold. Parents of children who play Minecraft will love this fun, educational collection of Bible stories. With the world of Minecraft as a backdrop using vivid, full-color screenshots, children will experience the Bible as never before.
Authors Garrett Romines and Christopher Miko are teachers who have used Minecraft to create imaginative worlds in their classrooms. Now, they have created Bible stories with virtual blocks to produce vibrant, 3-D worlds filled with adventure and astonishing imagination.
With fascinating scripture and narrative simplified to teach young readers, this is the perfect gift. The images created are not only of magnificent, vast terrains often found in Minecraft but also feature artfully re-created Bible characters, such as Adam and Eve, and superb designs of the pyramids and Noah's ark. A range of biblical characters such as Jesus and Pharaoh are offered in fun, colorful scenes kids will treasure. Engaging stories including the Tower of Babel and the story of Abram and Lot, to name a few, are here. With over 470 images, young readers will explore the story of creation, the journey of Abraham, David and Goliath, Moses's great journey, the birth of Jesus, the Last Supper, and many more stories!
The Unofficial Holy Bible for Minecrafters makes the Bible more entertaining, engaging, and accessible for children than ever!
For more information on this product ⇒⇒Click Here⇐⇐
Seller
---
I hope that you have really enjoyed this post,
Please Leave All Comments in the Comment Box Below

↓
---