GOD GIVES CAIN A SECOND CHANCE
---
Why is Cain angry?
He is angry enough that he is going to slay his brother.
Back of premeditated murder there always is anger. Our Lord said that, if you are angry with your brother without a cause, you are guilty of murder.
Back of anger is jealousy, and back of jealousy is pride. There is no sense of sin whatsoever in spiritual pride.
James put it in language like this: "Then when lust hath conceived, it bringeth forth sin: and sin, when it is finished, bringeth forth death" (James 1:15).
Cain's anger led to murder, but back of that was his jealousy and also his pride. And that is how God deals with him.
He says to Cain, "If thou doest well, shalt thou not be accepted?"
Actually, the meaning is better translated as, "Shalt thou not have excellency?"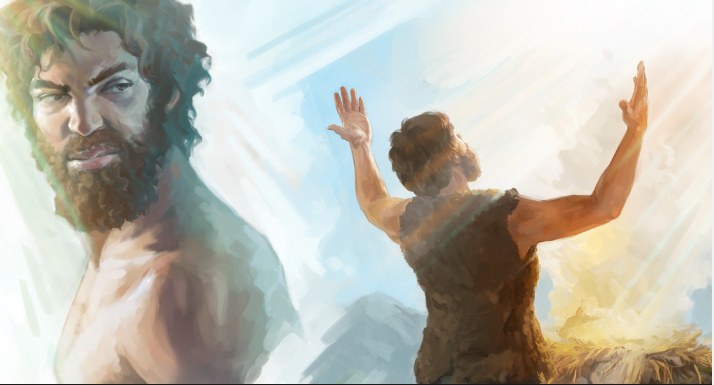 The eldest son always occupied a place of preeminence, and this boy thinks that now he will lose that. God tells him there is no reason for him to lose it if he does well.
To do well would be to bring that which God had accepted from Abel, a sacrifice and the acknowledgment that he was a sinner. But not this boy—he's just angry. "Sin lieth at the door."
There are those who have interpreted this as meaning that a sin offering lies at the door; that is, that there is the little lamb lying at the door.
That makes sense because that was true, but I do not think it means the sin offering here. Up to this time and beyond this time, in fact, up until Moses, as far as I can tell from the Word of God, there was no sin offering.
You find the instructions given for the sin offering in the Book of Leviticus. In the first part of that book, five offerings are given, and one is the sin offering. the sin offering did not come into existence until the law was given.
That is the thing that Paul is saying in Romans 3:20: ". . . For by the law is the knowledge of sin." The offerings that were brought up to that time were burnt offerings.
Job in his day, which obviously was before Moses, brought a burnt offering. It was not in any way a sin offering. I think if you will examine the Scriptures, you will find that that is true.
It is obvious that Cain did not realize how vulnerable to sin he was. When God said to him that "sin lieth at the door," I believe He was saying that sin, like a wild beast, was crouching at the door waiting to pounce on him the moment he stepped out.
For that reason Cain needed a sacrifice that would be acceptable to God for sin, a sacrifice that pointed to Christ. "Not as Cain, who was of that wicked one, and slew his brother. And wherefore slew he him? Because his own works were evil, and his brother's righteous" (1 John 3:12).
"If thou doest not well, sin lieth at the door." To do well would have been to bring the kind of offering that Abel had brought, a burnt offering.
You find that Abraham also offered a burnt offering, for there could be no transgression until the law was given; that is, sin would not become a trespass against law until then.
Therefore, you find that God actually protected this man Cain.
Genesis 4:6-7 KJV
[6] And the LORD said unto Cain, Why art thou wroth? and why is thy countenance fallen?
[7] If thou doest well, shalt thou not be accepted? and if thou doest not well, sin lieth at the door. And unto thee shall be his desire, and thou shalt rule over him.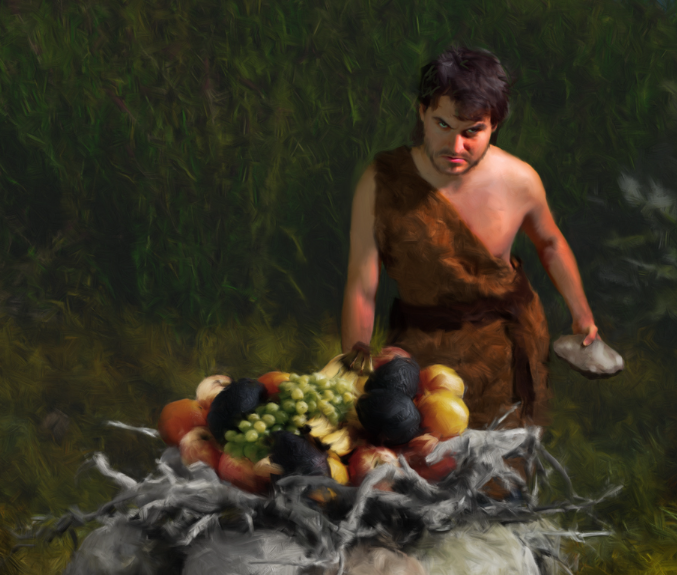 Genesis 4:6
And the LORD said unto Cain, Why art thou wroth? and why is thy countenance fallen?
---
God loves Cain, just as He did Abel, and wishes to bless him also.
Abel's Altar speaks of Repentance, of Faith, and of the Precious Blood of Christ, the Lamb of God without blemish; Cain's altar tells of pride, unbelief, and self-righteousness, which always elicits anger)
Anger, in one form or the other, accompanies self-righteousness, for that is what plagued Cain; God's Righteousness can only come by the Cross, while self-righteousness is by dependence on works.
Already in Genesis we have seen that when God interacts with people, He sometimes asks questions. Obviously, God knows the answers to His questions. Rather, God asks in the same way a human father might question a child.
He appears to want to engage them in conversation, to prompt them to think about their choices. God wants to hear them express the state of their own hearts. Fatherly questions are an opportunity for the child to be open, honest, and trusting of their parent.
Here God asks Cain to think about, explain, and express why he feels so angry. God's question not only seeks Cain's response, but hints that there is no good reason for Cain to feel this way.
God's rejection of Cain and his offering has caused his face to fall, and God wants Cain to understand and own the reasons for His anger. However, as the next verse shows, this is not a necessary reaction. God is willing to accept Cain if Cain chooses a better path.
God still calls for His people to express themselves to Him in prayer, even in seasons of rebellion and hurt. Some of the Psalms model those kinds of honest, hard prayers for us.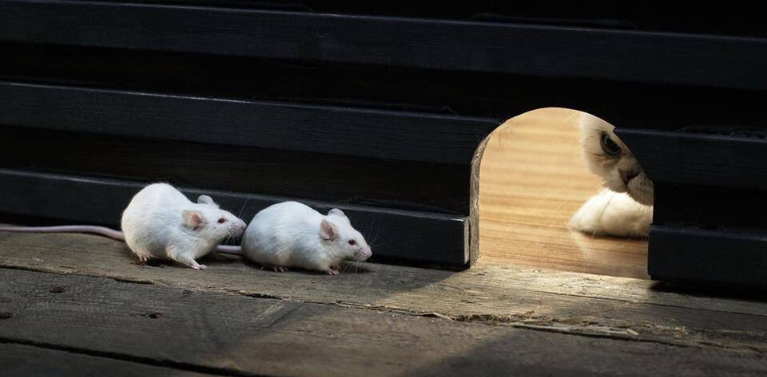 Genesis 4:7
If thou doest well, shalt thou not be accepted? and if thou doest not well, sin lieth at the door. And unto thee shall be his desire, and thou shalt rule over him.
---
If you bring the correct sacrifice, and thereby place your faith
A Sin-Offering
A lamb was at the door of the Tabernacle.
The Lord promised Cain dominion over the Earth of that day, if he would only offer up, and place his trust in, the right Sacrifice; He promises the same presently to all who trust Christ [Mat. 5:5]).
In the previous verse, God asked Cain why he felt so much anger when God rejected his offering. God had shown favor on his brother Abel and his offering, which seems to have enraged Adam and Eve's firstborn son. God now speaks a wise warning to Cain. Cain will not heed it, but it is a warning for us as well.
God asks Cain to adjust his understanding of what is good to God's understanding of goodness. If Cain does well by God's standard, God will accept him. In other words, there is no reason for Cain to be angry about God's rejection. The cure for that rejection is obedience: if Cain does what is right, God will accept him.
If Cain insists on setting his own standards for what is acceptable, sin "is crouching at the door." That poetic phrase captures the nature of our rebellion against God. Sin desires to own us, and our refusal to let God set the standard for right and wrong in our lives is the fast track to sin.
God acknowledges the reality of human nature. We are locked in a battle with sin's desire for us (or our desire to sin). God tells Cain he is responsible to win that battle, to rule over his sin. The Hebrew terms used in this verse are exactly the same ones spoken to Eve in Genesis 3:16.
These are from the root words tashuwqah, translated "desire," and mashal, translated "rule over." Despite sin's "desire" for control over him, Cain must "rule over" his temptations and not give in.
I hope that you have really enjoyed this post,
Please Leave All Comments in the Comment Box Below

↓
---