This does not mean that Cain and Abel were born in the Garden of Eden, but it is definite that they were born after the fall of Adam and Eve.
In order to have the skins of animals, the animals have to be slain. I believe that this is the origin of sacrifice and that God made it clear to man.
God rejected their fig leaves but made them clothing of skins, and when Adam and Eve left the Garden of Eden, they looked back upon a bloody sacrifice.
When they looked back, they saw exactly what God had Moses put on the mercy seat in the Holy of Holies: two cherubim looking down upon the blood that was there—and that was the way to God.
Genesis 3:20-24 KJV
[20] And Adam called his wife's name Eve; because she was the mother of all living.
[21] Unto Adam also and to his wife did the LORD God make coats of skins, and clothed them.
[22] And the LORD God said, Behold, the man is become as one of us, to know good and evil: and now, lest he put forth his hand, and take also of the tree of life, and eat, and live for ever:
[23] Therefore the LORD God sent him forth from the garden of Eden, to till the ground from whence he was taken.
[24] So he drove out the man; and he placed at the east of the garden of Eden Cherubims, and a flaming sword which turned every way, to keep the way of the tree of life.
Genesis 3:20
And Adam called his wife's name Eve; because she was the mother of all living.
---
The story ends with some final arrangements. The woman needs a name, and Adam served as the namer-in-chief earlier (Genesis 2: 19, 20). He gives her a hopeful name, one based on the word for living. Adam understands that Eve will produce babies and multiply the number of humans (1: 28).
Most people know of the first woman as "Eve." However, in the book of Genesis, it is not until this moment that the woman created from Adam's rib actually receives her name. Why Scripture chooses this particular moment to mention her name is not entirely clear.
It's possible that this is meant to be part of a transition from the doom-and-gloom of the prior passage to a more positive tone. Despite all that's happened so far, this is truly a hopeful verse, especially following God's devastating curses on humanity. A future remains. God would continue to provide in some specific ways.
The name Eve is literally the word "living" in Hebrew, haw'wāh, and is actually used only twice in the Old Testament: here and in Genesis 4:1. In giving her this name, Adam is looking forward to the generation of humans to come.
The following verses will show further proof of God's merciful love for mankind. Rather than destroying them, God provides clothing, and allows them the ability to live on, though in much less ideal circumstances.
Genesis 3:21
Unto Adam also and to his wife did the LORD God make coats of skins, and clothed them.
---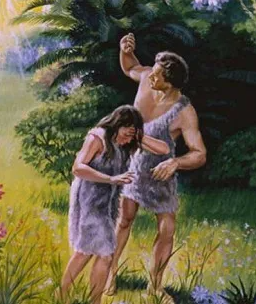 Following the devastating announcements of discipline, God proceeds to demonstrate an act of grace: He makes coats of skins for the couple.
The two have already made coverings of fig leaves for themselves ( Genesis 3: 7 ), and we wonder if the additional covering of skins foreshadows the system of animal sacrifices that God will institute later.
Nothing is said in the Bible about this. The immediate message to Adam and Eve is what should not be overlooked: the God who has just disciplined them still cares deeply for them.
There are four great lessons that we see from the fig leaves and the fact that God clothed them with skins.
Man must have adequate covering to approach God. You cannot come to God on the basis of your good works. You must come just as you are—a sinner.
Fig leaves are unacceptable; they are homemade. God does not take a homemade garment.
God must provide the covering.
The covering is obtained only through the death of the Lord Jesus.
Man must have a substitute between himself and God's wrath. That is important even in these days for man to consider. The hardest thing in the world is for man to take his rightful position before God.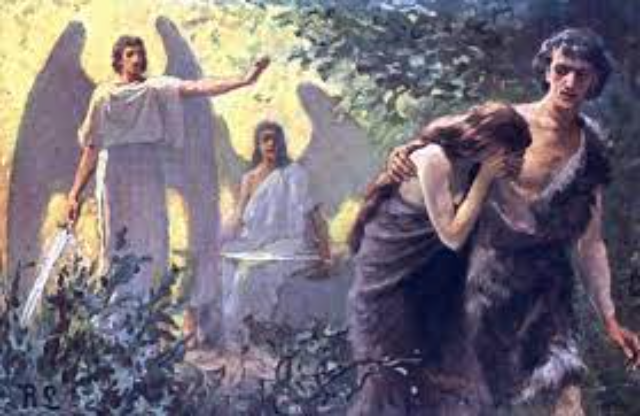 This anonymous poem on prayer reveals the necessity of this even in our own hearts: He prayed for strength that he might achieve; He was made weak that he might obey.
He prayed for health that he might do greater things; He was given infirmity that he might do better things; He prayed for riches that he might be happy; He was given poverty that he might be wise.
He prayed for power that he might have the praise of men; He was given infirmity that he might feel the need of God. He prayed for all things that he might enjoy life; He was given life that he might enjoy all things.
He had received nothing that he asked for—all that he hoped for; His prayer was answered—he was most blessed. Salvation comes when you and I take our proper place as sinners before God.
As with the previous verse, this passage contains some hope for Adam, Eve, and humanity. God's curses for their sin were severe and painful to hear. However, Eve's name points to the future generations to come.
And this verse reveals that God will still provide, starting with clothing for Adam and Eve. Their hastily constructed fig leaves would not be adequate to continue to cover their nakedness. In clothing them, God demonstrates that it is right for them to be clothed.
In order to make this clothing of skin, though, an animal had to die. This is the first recorded physical death in Scripture, even of an animal. No death is explicitly recorded until after human sin. God Himself is the one who takes the animal's life to provide warmth and covering for the humans.
Later in Genesis, God will require the sacrifice of animals to provide a blood covering for human sin. Eventually, Jesus' Himself would bleed and die to provide a final covering for the sins of all who would trust in Him for salvation.
Genesis 3:22
And the LORD God said, Behold, the man is become as one of us, to know good and evil: and now, lest he put forth his hand, and take also of the tree of life, and eat, and live for ever:
---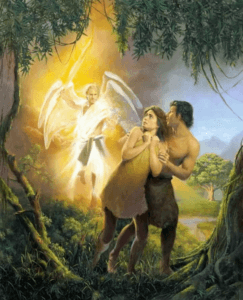 The author gives a divine detail at this juncture: the gist of God's rationale for expelling the two from the garden. Things have changed, and sin has caused a loss of innocence for the man and his companion.
God foresees that Adam has become as one of us. The "us" is not specified. Some see this as God's addressing His heavenly council of angels (compare Job 1: 6). Others see it as conversation between the three persons of the Triune. Still others see it as the "plural of majesty".
To lose access to the tree of life signs the death warrant of Adam and Eve. Instead of living forever, they will age and eventually die. Another future feature of the New Jerusalem is year-round access to the tree of life, planted in or straddling the river of life (Revelation 22: 2).
Who is God talking to in this verse when He says that the man has become like "one of us?" Some Bible scholars see this as a reference to the Trinity: God the Father speaking to the Holy Spirit and to Christ.
Logic suggests, and Scripture confirms, that all three aspects of the Trinity were present from before the foundation of the world. Other scholars think that maybe God was speaking to nearby angels, one of whom is mentioned in the following verses.
In any case, God confirms the serpent's half-truth that eating from the Tree of the Knowledge of Good and Evil has made Adam and Eve like God, in one way. However, this is certainly not the way the snake led them to believe.
According to God's curses, Adam's and Eve's knowledge of good and evil would lead to great frustration, pain, and heartache. They would experience happiness and receive good gifts from God along the way, to be sure, but their days would be punctuated by conflict.
In addition, their disobedience, knowing evil, meant that they and their offspring would be capable of continuing to commit great evil.
Although part of the curse, God's oracle that Adam would eventually die was also an act of mercy. Adam's hard life and ability to rebel against God and do harm to others would be limited—unless he ate from the Tree of Life. That would lead to an unending, hopeless existence separated from God.
Apparently, the fruit of the Tree of Life would provide physical immortality to Adam and Eve. For their own good and the good of all, God would not allow this. To be spiritually dead while remaining physically alive forever could only bring endless suffering.
It's interesting to note that, depending on how one translated the original Hebrew, God doesn't appear to even finish His sentence before removing Adam and Eve from the garden in the next verse.
Genesis 3:23
Therefore the LORD God sent him forth from the garden of Eden, to till the ground from whence he was taken.
---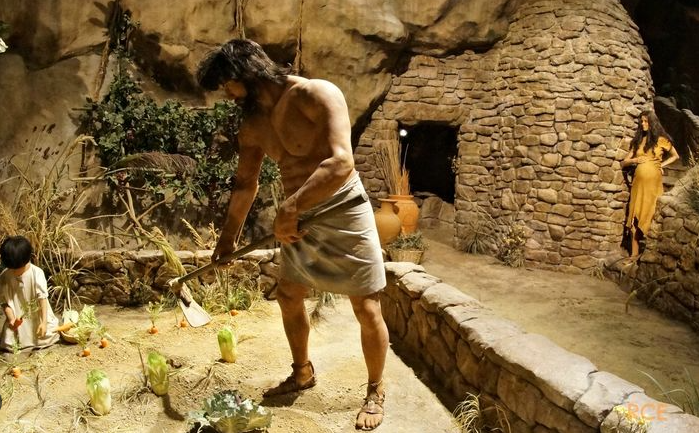 Perhaps this verse offers one reason why the Lord has clothed the couple: to prepare them for life away from the garden of Eden, from which they are now expelled. In verse 22 (not in today's text), God gives the reason for their eviction— so that they, in their fallen condition, will not eat of the tree of life and live forever.
This is an act of discipline, but it is also one of grace. Sin-cursed humanity must be protected from itself. Unchecked sin would be catastrophic. The Hebrew word translated till is the same as that translated "dress" in Genesis 2: 15.
The man will continue to do the work he was doing in the garden, only now he will do so with the grim awareness that the ground from which he has been made is cursed ( 3: 17 ). He has no one to blame for this sad outcome but himself.
All I can say to this is, thank God that He did not let man live eternally in sin and that God is not going to let us do that. That is really a blessing!
Now we arrive at the moment of humanity's greatest loss, the true and lasting consequence of sin. God banished Adam and Eve from His physical presence to a life that would be characterized by pain, frustration, difficult work, and eventual physical death.
Adam's destiny is poetic and heartbreaking: Formed from the dust of the ground, he would live out his days working to pull his livelihood from the ground until he died and returned to the ground.
God had already begun His plan to redeem His people, to purchase back at the price of His own Son's life all those who would trust in Christ. For them, this separation from God will one day end. We will be united with our Father in the Eden-like home of an eternity with Him.
But we're not home, yet. In the New Testament, Paul will describe the groaning of the Christian's longing to be with our Father as we wait for that day (Romans 8:18–25).
Genesis 3:24
So he drove out the man; and he placed at the east of the garden of Eden Cherubims, and a flaming sword which turned every way, to keep the way of the tree of life.
---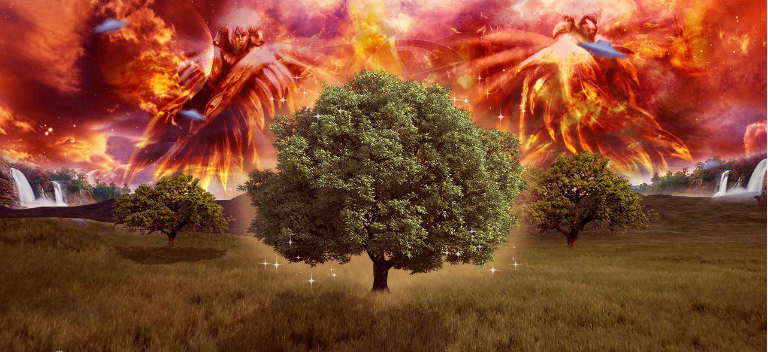 The Lord takes extraordinary measures to prevent contact with the precious tree of life, posting a guard of heavenly beings known as Cherubims (compare Ezekiel 10: 20). Although stated as guarding the east side of Eden, the implication is that the Cherubims prevent any approach to the special tree.
This raises a question: Why didn't God just destroy the garden and its location?
The Bible does not address this issue specifically. Given that the garden of Eden is not to be found anywhere today, God either did destroy it eventually or allowed forces of nature to overtake it. Traditionally, the garden is located in Mesopotamia between the Tigris and the Euphrates Rivers.
We search in vain, though, to find this exact spot. We will only see it restored as the New Jerusalem of Revelation 21 and 22. This does not mean that God put up a roadblock.
It means that the way of life was kept open for man to come to God. But now that way is not through the tree of life. Salvation must come through a sacrifice, and when man looked back, the blood of the sacrifice is what he saw.
Genesis 3 ends with our last glimpse of the Garden of Eden, of the paradise God had built for the first humans. Sinful man could not be allowed to become immortal by eating from the Tree of Life. While this might seem cruel, it is actually an act of mercy.
Existing forever in a fallen, earthly state, separated from God, would have been a fate worse than death. Humans die, but we have the opportunity at an eternal, restored relationship afterwards. Preventing access to the Tree of Life is so essential to God that He sets a guard at the entrance to the garden.
The Bible describes different varieties of angels. Angels are not former or future humans. They are specially created race of supernatural beings that serve God and carry out His plans in heaven and on earth. God's Word tells us many things about them, but there is clearly much we do not know.
This is the first mention of a cherubim in Scripture. Cherubim angels are mentioned over 90 times in the Old Testament. Ezekiel 1 and 10 describe them as powerful winged creatures.
They almost always serve in the capacity of guarding or protecting what belongs to God or even His own presence. Here a cherubim is assigned to guard the way to the Tree of Life.
I hope that you have really enjoyed this post,
Please Leave All Comments in the Comment Box Below

↓
---