GOD'S CALL AND PROMISE TO ABRAHAM
---
The first three verses give us the threefold promise of God to Abraham (Abram), and actually this is the hub of the Bible. The rest of Scripture is an unfolding of this threefold promise.
The first of the threefold promise is the land. God says, "I am going to show you a land, and I am going to give it to you."
The second part of the promise is the nation—"I will make of thee a great nation, and I will bless thee, and make thy name great." He also promises him, "And I will bless them that bless thee, and curse him that curseth thee."
The third part of the promise is that He would make him a blessing: "In thee shall all families of the earth be blessed." This is God's threefold promise.
The end of Genesis 11 tells the story of Terah, Abram's father, and the family's journey to a new home in Haran. Genesis 12 shifts the story to Abram and his journey on into the land of Canaan.
God promises to make Abram the father of a great nation, and to give Abram's descendants that very land. Abram begins to worship the Lord, but quickly fails a test of his faith in Egypt.
God shows Himself faithful in a miraculous way, preparing Abram for what's to come in chapter 13.
Genesis 12:1-3 KJV
[1] Now the LORD had said unto Abram, Get thee out of thy country, and from thy kindred, and from thy father's house, unto a land that I will shew thee:
[2] And I will make of thee a great nation, and I will bless thee, and make thy name great; and thou shalt be a blessing:
[3] And I will bless them that bless thee, and curse him that curseth thee: and in thee shall all families of the earth be blessed.
Genesis 12:1
Now the LORD had said unto Abram, Get thee out of thy country, and from thy kindred, and from thy father's house, unto a land that I will shew thee.
---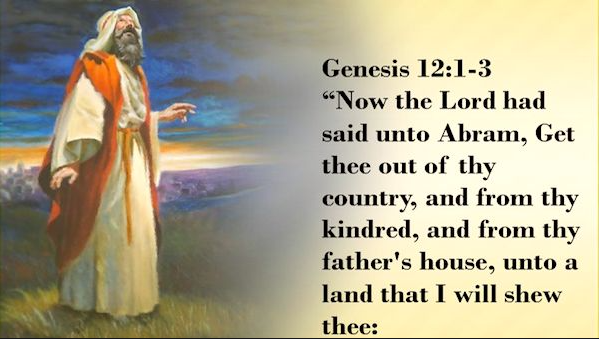 As in the days of Noah, God chooses to break the cycle of rebellion by working through an individual: Abram. He is to leave the post-Babel population centers and journey to a new land of promise.
As with Noah following the flood (Genesis 9:8–17), Abram's commission emphasizes God's ongoing plan to re-create people as a way of preserving a faithful "seed" that will undo the work of Satan (3:15).
Also as with Noah, God accomplishes this purpose by entering into a covenant, or contract, with an individual of outstanding faithfulness, someone who will pass the promise through the line of his descendants.
God's covenant with Abram is patterned after ancient suzerain-vassal treaties. In these arrangements, a great king declared sovereignty over a weaker subject king and demanded absolute loyalty in exchange for military protection and overall security.
The terms of these agreements could be extended across generations, provided that the vassal king's heirs agreed to fulfill the conditions of obedience.
Covenants of this kind were typical of ancient empires such as Egypt and Assyria, which ruled vast regions through local client kings.
In the present case, the supreme sovereign, God, offers a local tribal leader, Abram, blessings in exchange for obedience to God's unilateral terms.
These terms in the verse before us are that Abram must leave everything—including his country, his kindred (ethnic/tribal group), and even some of his more immediate relatives (his father's house)—and undertake a journey to an unspecified location.
God's terms suggest that this is a permanent migration; there is no indication that Abram will ever return to his homeland.
Genesis chapter 12 begins one of the most crucial sections in the entire book of Genesis. Genesis is deeply focused on God's relationship with the nation of Israel. That relationship has its first official beginning in this verse.
Scripture gives us no information on whether Abram experienced some prior relationship with God, or if he had previously communicated with the Lord. Abram's people, including his father Terah, worshipped false gods (Joshua 24:2).
Ur and Haran, Abram's former and current homes, were apparently centers of worship of the moon. Prior to his calling by God, Abram was pagan in every sense of that word.
Very much middle aged for his era—75 years old—Abram was wealthy and settled with his father's extended family in Haran. He was married to Sarai, but they were barren and childless. We're not told that he was an especially good or bad man.
As with many of the human instruments used by God, this is secondary—all that ultimately matters is that God intends to accomplish His will through this particular man and his family.
God shows up in Abram's life with very specific commands and staggering promises. God's first word to Abram is "go." It's important to note that Abram is given a two-sided instruction: both to "go from," and to "go to."
God calls Abram to leave behind three things: his country, his extended family or people group, and his father's household. He was to go to an unnamed land which God will show to him.
Abram could not stay where he was and still obey God. He is being called to leave His pagan culture in order to commit himself to the Lord. In going, though, God will promise to do great things for Abram.
Genesis 12:2
And I will make of thee a great nation, and I will bless thee, and make thy name great; and thou shalt be a blessing.
---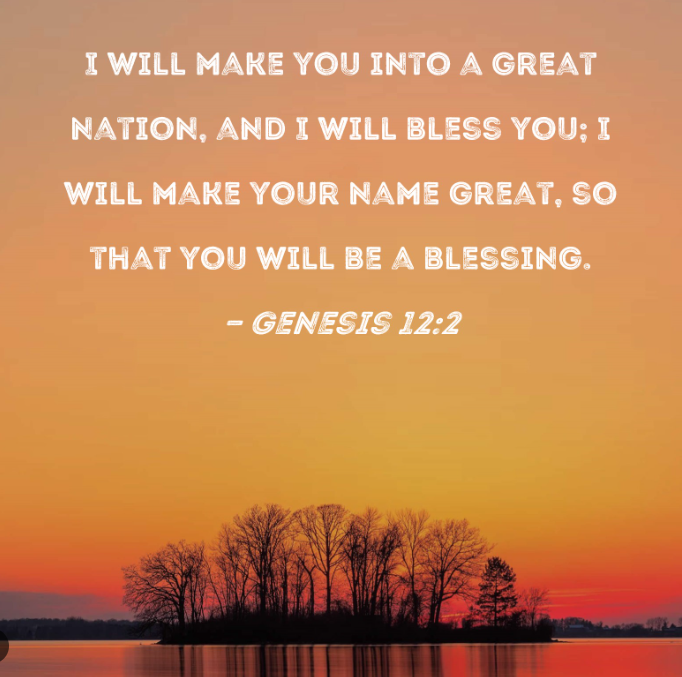 God continues by stating the benefits of the covenant. First, the promise that God will produce through Abram a great nation means that Abram will have many descendants.
Moreover, they will form a distinct and influential people group (see also Genesis 15:5; 17:2–4). This aspect of God's promise is notable in that Abram's wife, Sarai, has been unable to conceive children to this point in time (11:30).
This problem will become a driving theme in Abram's story (15:1–8; 16:1–6; 17:15–18; 18:9–15).
The benefits of the covenant require supernatural intervention, a reality that will further demonstrate God's power to fulfill His plans and purposes.
The term great nation further implies what will be stated explicitly later: Abram is leaving his current homeland to occupy a new territory, Canaan, which will belong to his descendants (Genesis 12:7; 13:14–17; 15:7; 17:8).
The remaining benefits to Abram emerge from the first. I will bless thee stresses the divine protection Abram will enjoy as he travels and as his influence expands.
Further, even though he has no children as of yet, the size of Abram's clan will expand his reputation and renown (thy name great) dramatically.
Abram and his descendants will also bless others, not only in the political and economic sense but also, and more particularly, through their witness to the faithfulness of the one true God.
In the previous verse, God began His seemingly out-of-the-blue contact with Abram. God commanded Abram to go away from his country, his people, and his father's household and to go to an unspecified land God would show him.
Now God begins a series of huge and powerful promises to Abram, which will accompany this leaving behind of everything he knows. God vows to make Abram—through his descendants—a great nation. God will bless Abram.
God will make Abram's name great. God will make Abram a blessing.
These promises were the very things the great kings and leaders of Abram's time would have longed for themselves.
We're told nothing of Abram's personal ambitions, but it seems likely these promises would have surpassed his wildest expectations for his life. Keep in mind, when these messages came to Abram, he was a childless 75-year old man living in his father's household!
Even so, the next verse contains yet more promises from God.
Genesis 12:3
And I will bless them that bless thee, and curse him that curseth thee: and in thee shall all families of the earth be blessed.
---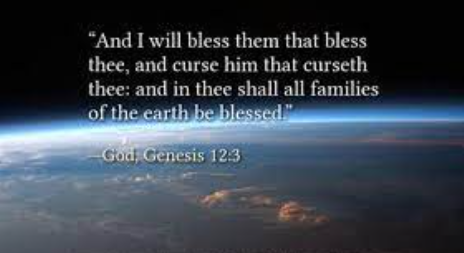 More benefits that will proceed from God's covenant are revealed. The first implies that God will relate to other nations as those nations choose to relate to the nation that is to come from Abram.
Those who ally themselves with God's people will be rewarded for doing so, but those who stand in opposition will be fighting against God.
Such language is again typical of suzerain treaties, where the great king pledges to send aid and military support to defend the vassal king's homeland.
Another benefit reflects God's ultimate purpose: all people groups will ultimately be blessed somehow. What is unknown to Abram is known to us: that blessing is Christ (see Acts 3:25, 26; Galatians 3:8).
Abram's descendants will thus serve to fulfill God's original plan to create a world that Satan cannot destroy (Genesis 3:15; 6:18; 9:1, 9).
Verses 1–3 introduce the beginning of God's relationship with Abram; this is the earliest history of the nation of Israel. Without any recorded preamble, God shows up in Abram's life with a command to go away from where he is to an unnamed place.
In the going, God promises to make Abram a great nation, to bless him, to give him a great name, and to make him a blessing.
Now God continues these promises: God will bless those who bless Abram. God will curse those who dishonor Abram. In Abram, God will bless all the families, or "peoples," of the earth.
God's words to Abram stop there. The next verse will reveal Abram's response. Notice, though, that the only condition for receiving these promises seems to be that Abram goes.
Aside from that, God's promises here are not dependent on Abram's actions, or obedience, or goodness, or worthiness. God simply says He will do these things to and through Abram. Period.
This parallels the fact that Abram's prior life and personality are given no description: his character is irrelevant to the purposes of God in this instance.
Knowing what we know now about the history of God's relationship with Israel, it's clear that God does indeed keep these promises (Deuteronomy 34:1–4; Joshua 1:1–9).
Of course, Abram currently has no way of knowing that for sure. Instead, he will have to trust God to keep his vows (Hebrews 6:13–18).
I hope that you have really enjoyed this post,
Please Leave All Comments in the Comment Box Below

↓
---