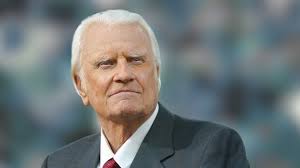 Billy Graham, world-renowned preacher, evangelist, and author, delivered the gospel message to more people face-to-face than anyone in history and ministered on every continent of the world in more than 185 countries.
Millions have read his inspirational classics, including Angels, Peace with God, The Holy Spirit, Hope for the Troubled Heart, How to Be Born Again, The Journey, Nearing Home, and The Reason for My Hope.
---
Paperback: 158 pages
Publisher: Thomas Nelson; Reprint edition (September 7, 2002)
Language: English
ISBN-10: 0849943817
ISBN-13: 978-1593280673
Product Dimensions: 5.5 x 0.5 x 8.5 inches
Shipping Weight: 6.4 ounces (View shipping rates and policies)
Average Customer Review:  

25 customer reviews

Amazon Best Sellers Rank: #528,338 in Books (See Top 100 in Books)

#4915

 

in Christian Self Help

#5420

 

in Happiness Self-Help

#3217

 

in New Testament Bible Study (Books)
---
Peace – Love – Joy – Find Jesus This Holiday Season!
"The Bible is our one sure guide in an unsure world." ~ Billy Graham
Are you satisfied with what life had to offer or are you looking for a deeper spiritual experience? Billy Graham believed that the Beatitudes alone could change the world if people took them seriously. Why do some people walk through life despondent and depressed while others seem to radiate peace and joy. Could it be as simple as developing a relationship with God who is willing to give you peace and joy in your soul.
The soul is made up of your personality, intelligence, memory and conscience.
Billy Graham is one of the few people who really understood the reality of life. He understood that the heart of men and women have always been deceitfully wicked and that is why there are so many problems in the world. Without Jesus the heart can not be purified.
So what this book does is it takes you through the Beatitudes and you will finally understand what it means to be meek. Not what I originally thought. If the meek are going to inherit the earth then it is important to know what that really means.
In troubled times, it is good to read something calming by a man of God who knew what the end of the story would be. He has read the last page of the Bible.
 December 16, 2018
 Format: Kindle Edition
A beautiful insight to the Beatitudes and how to uncover and live their truths, in any and in all circumstances!
---
As Christians, we have the greatest gifts that are available to all who choose to receive Jesus Christ, but received only by those who have accepted him. One of these gifts is the eight beatitudes of Christ, found in Matthew 5:3-10, which have helped me (and I'm sure many others) look ahead to God's plan of redemption in their lives: spiritual, physical, and in many other areas. And the Lord has spoken through Dr. Billy Graham in The Secret of Happiness: where Dr. Graham examines all eight beatitudes individually, and dissects them, one-by-one. Just what are the results?
Well, one of the most notable ones is Dr. Graham's observation of the famous question, "why do bad things happen to good people," the same title of the bestselling book by Rabbi Harold S. Kushner that made people believe God to be finite (see my review). Dr. Graham takes us through the Bible's passages on suffering, offering interpretation, and helps us apply them to the present day world. If you are not being persecuted, it might not necessarily mean you haven't been faithful, Dr. Graham teaches; you live in a Christian nation! For me, this was a breath of fresh air, as I live in a town where most people are Christians, and may be tempted to wonder if they haven't been faithful when they haven't been persecuted. Dr. Graham does a jam-up job explaining the last of the eight beatitudes, and his perspective here may change the direction of your life and faith for all eternity. (The same intention Dr. Graham had with his last sermon, The Cross, when it aired on his ninety-fifth birthday this past November, 2013, according to Franklin Graham in his introduction to his father's sermon.)
It doesn't stop there, however. Dr. Graham helps us to look ahead to our heavenly futures as we mourn (the second beatitude, which says God will comfort those who mourn), helps us to take steps to happiness, and, among others, teaches us the secret of contentment, no matter what our circumstances may be. If you are rich, that may seem like a piece of cake. If you are poor, however, and have an uncertain future, this book may be one of God's greatest gifts to you: not before the cross and the Bible, but right at the very top with them.
And even if you are rich, you are not exempt from trials: as a Christian or a non-Christian. Dig deep into the soil of truth planted by Jesus Christ on this earth more than a thousand years ago, and you will find the greatest sustainment of all time: the sustainment of Jesus Christ, who died for everyone, not just the sinners and not just the saints either. Money is a treasure that will fade away when we die—maybe even before then. Christ's love is a treasure that we will have with us for all eternity, in what he referred to as Paradise to the thief on the cross (see Luke 23:43), if we choose to accept and follow him as Lord.
Highly recommended for ALL believers and ALL seeking to become believers as well.
– Bstrassell0001
  February 21, 2014
  Format: Paperback
The Secret of Happiness–The Sermon on the Mount Revisited
---
The Secret of Happiness is a devotional exposition of the beatitudes (Matthew 5:3-10) and a must-read for all Christians. Each chapter explains a beatitude, puts the beatitude in a spiritual context, and discusses why Christians should pay attention.
Graham's exposition is lucid and to the point. The book was first published in 1957 and it includes, at least in the first printing, a priceless portrait of Graham as a young man.
I have read this book twice. The first time was in college. I reading it again now in mid-career on the death of my grandfather. My grandfather loved this book enough that he donated a copy to the church library where it remained for 20 years. I received this book as an heirloom.
– Stephen W. Hiemstra
  October 14, 2000
  Format: Hardcover
This book explains the beatitudes and the conclusion of it.
---
To tell the truth I have only read this book half way through. This book is so fascinating, in each chapter it explains about the beatitudes, depth explanation, and conclusion.
Mr. Graham writes in a logical and spiritual combine, which helps the reader to understand better. .
WOW!! I would recommend you to buy this book.
– Matthew
  May 26, 2001
  Format: Hardcover