Charles Frazier Stanley (born September 25, 1932) is the senior pastor of First Baptist Church in Atlanta, Georgia. He is the founder and president of In Touch Ministries and served two one-year terms as president of the Southern Baptist Convention from 1984 to 1986. He has an evangelical and dispensationalist theology.
His Early Life and Education
---

Stanley was born in Dry Fork, Virginia. His father, also named Charles, died nine months later. Stanley grew up in rural Dry Fork on the outskirts of Danville. At the age of 12, he became a born-again Christian, and at age 14 he began his life's work in Christian ministry.
Stanley obtained a bachelor's degree from the University of Richmond and a Master of Divinity degree from Southwestern Baptist Theological Seminary in Fort Worth, Texas. He received Master of Theology and Doctor of Theology degrees from Luther Rice Seminary in Florida (now located in Lithonia, Georgia).
His Ministry
---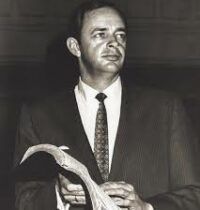 Stanley joined the staff of First Baptist Church of Atlanta in 1969 and became senior pastor in 1971. As a young pastor, he was given the motivational book Think and Grow Rich. In 2009, Stanley wrote, "I began to apply the principles of that book to my endeavors as a pastor, and I discovered they worked! … For years, I read Think and Grow Rich every year to remind myself that the truth of God is not just for one career field. It is for all manner of work and ministry."
In 1972, Stanley launched a half-hour religious television program called The Chapel Hour. The Christian Broadcasting Network began televising this show in 1978. In 1982, Stanley founded In Touch Ministries with the mission to lead people worldwide into a growing relationship with Jesus Christ and to strengthen the local church. In Touch uses tools like radio, television, magazines and digital media to advance the Gospel as quickly as possible. Dr. Stanley decided to call the ministry In Touch, because it comes from a Living Bible he owned.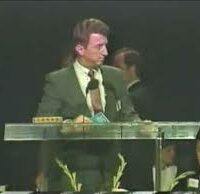 In 1985, Charles Stanley was elected president of the Southern Baptist Convention.
During the 1980s, In Touch broadcasts were available in nearly every major U.S. media market, usually on Sundays. In 2006, In Touch with Dr. Charles Stanley could be heard in 107 languages. Currently, it airs in more than 50 languages worldwide. In the United States, "In Touch" is broadcast on approximately 500 radio stations, 300 television stations and several satellite networks including The Inspiration Network (INSP) and Trinity Broadcasting Network. Stanley's sermons, along with other audio and video programming, are available on the In Touch website. The ministry also publishes In Touch magazine.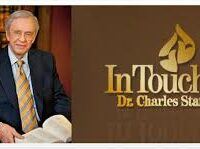 Stanley's writings and broadcasts address issues such as finances, parenting, personal crises, emotional matters, relationships and Protestant Christianity. According to the In Touch website, "Dr. Stanley fervently believes the Bible to be the inerrant Word of God, a belief strongly reflected in his teaching."
Over the course of his ministry, Stanley has developed "30 Life Principles" that have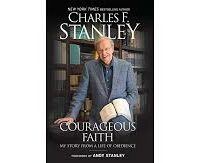 guided his life and helped him grow in his knowledge, service, and love of God. He shares these often, including in books, Bibles and study guides. He credits his grandfather, George Washington Stanley, with inspiring one of his most referenced principles: "Obey God and leave all the consequences to Him." In his book Courageous Faith: My Story from a Life of Obedience, Stanley said, "Granddad told me, 'Charles, if God tells you to run your head through a brick wall, you head for the wall, and when you get there, God will make a hole for it.'"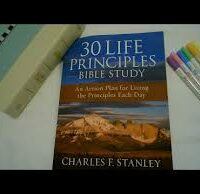 In 2005, Stanley invited Lisa Ryan to co-host a question-and-answer segment called "Bring It Home," which aired after the sermon and advertisements. The Q&A segment was intended to help the audience better grasp the content of the sermon through the use of questions the average listener might ask. The segment was discontinued in late 2006 and replaced by Stanley alone. In early 2007, Stanley began using the final segment of the "In Touch" TV and radio programs to teach on his "30 Life Principles." Related materials and teaching are available online through InTouch.org's "Life Principles Center."
In addition to his work in Christian ministry, Stanley is an avid photographer. Much of his photographic work is featured in the In Touch magazine, as well as in other materials printed by the ministry, such as the In Touch wall and desk calendars.
In 2017, Stanley named Anthony George to succeed him as senior pastor of First Baptist Church at some point in the future.
His Personal Life
---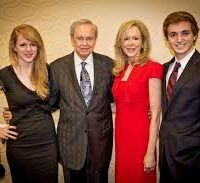 Stanley's divorce from his wife Anna in 2000, after several years of separation, caused a minor controversy in the Southern Baptist Convention. The matter was complicated by reports that Stanley had said he would resign as pastor if he became divorced. At the time, he did not believe his separation would result in divorce. However, when it did, the members of his church overwhelmingly voted to keep him on as pastor. According to First Baptist Atlanta's bylaws, Stanley will be able to keep his post as long as he does not remarry.
Stanley's son Andy Stanley is the pastor of North Point Community Church in nearby Alpharetta, Georgia. Stanley also has a daughter named Becky, whom Stanley has occasionally mentioned in his sermons.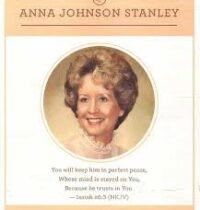 Stanley's wife of more than 40 years, Anna J. Stanley, originally filed for divorce on June 22, 1993, following their separation in spring of 1992. The two of them agreed that Anna would amend the lawsuit to seek a legal separation instead ("separate maintenance"), while seeking reconciliation. She again filed for divorce on March 20, 1995. Even though this was not the end of the marriage, the Moody Radio Network station in Atlanta (then-WAFS) took Stanley's daily broadcast off the air during that time, as managers concluded that there was no sign of reconciliation. The Stanleys were legally separated at the time that divorce papers were filed for the last time on February 16, 2000. A judge signed the final divorce decree on May 11, 2000.
Anna Johnson Stanley died on November 10, 2014.
Please Leave All Comments in the Comment Box Below ↓
---