Church Management Software
About Database Designs
"The company behind the software makes the difference."
Hello, my name is Dennis Keen. Thanks for browsing our website. I am the pastor that built ChurchPro. God gave me the knowledge to build a software system that churches need to manage their ministries. I assure you that I will be fair and treat you with respect. We will do our best to make you a happy and satisfied customer.
My new email address is DennisKeen@nc.rr.com.
Our History
---

ChurchPro was designed and developed by a pastor to help him manage his youth and mailing list. He began developing these tools to help his ministry. Much of what was available at the time was expensive and his church did not have the vision to spend the money on computer software. As time passed, he built more and more software to help his ministry. At a national conference in 1994 with a booth in Charlotte, NC. this pastor began marketing the software to churches known as the "Complete Church Manager". A few years later after a move from Georgia to Maryland, the pastor offered the program to churches on the internet. The first year sales were phenomenal and grew about 30 percent a year for the next several years. ChurchPro became the official trademark of the company. Later SchoolPerfect, a Christian school system, was added to the software lineup.
Our Experience
---

Database Designs has over 18 years of experience in developing church management systems. ChurchPro is proven in the work place. Our experience enables us to provide excellent technical support and training to our clients.
Our Present Location Today Database Designs Inc. is located in Forest Hill, Maryland about 30 miles north of Baltimore near Aberdeen Proving Ground.
Our Status
---
ChurchPro is one of the most popular church management systems and continues to serve churches with numerous products and services. We have several thousand installed users and several employees. We are located in all 50 states and several foreign countries.
Our Goal
---
It is our goal to provide the most software features in an All-In-One solution for an affordable price. Database Designs' commitment is to give our customers more features, more reports, more modules, more technical support, and more free installs than other software companies. Our goal is to help you get started and utilize the software for the glory of God. Our commitment to you is backed by our 30 day money back guarantee. In the unlikely event that our software does not meet your needs, we will promptly refund your money when you return the software.

Our View
Software does not have to be expensive to be high quality. ChurchPro has gone up only $100 over the past 13 years.
Our Future/Vision
We want to provide you with a one stop shopping experience for all services and hardware.
Our Services
---
We offer 90 days of free unlimited technical support to our clients. Also, we offer fee based technical support to our clients plus fee based webinars, data conversions, and custom work.
| | | | |
| --- | --- | --- | --- |
| Package | ChurchPro Basic | ChurchPro Complete | ChurchPro Business |
| Demo | Free | Free | Free |
| ChurchPro Program | | | |
| Single Church Install***User-Defined below*** | $349 | $399 | $499 |
| 2 Church Installs | $449 | $499 | $599 |
| 3 Church Installs | $499 | $549 | $649 |
| 4 Church Installs | $549 | $599 | $699 |
| 5 Church Installs | $599 | $649 | $749 |
| Unlimited | $649 | $699 | $799 |
| Tech Support | | | |
| 1 Year Single User Tech Support | $199 | $249 | $279 |
| 1 Year Multi User Tech Support | $239 | $289 | $299 |
| Upgrades | | | |
| Upgrade Single User | $199 | $249 | $279 |
| Upgrade Multi User | $239 | $289 | $299 |
| Upgrade + 1 Year Tech Single User | $299 | $389 | $399 |
| Upgrade + 1 Year Tech Multi User | $349 | $439 | $449 |
| Tax Upgrade** | Unavailable | $99 | $99 |
* See "How Many Installs Do I Need?" section below.
** Tax upgrades only applicable to programs that are not the most recent version and are no more than two years old. Ex: 2019 tax upgrades will be available for ChurchPro 2018 and ChurchPro 2017 users only.
What You Receive?
---
With your purchase of ChurchPro you will receive a copy of the ChurchPro program, licenses for the number of computers you have indicated, 90 days of free phone-in technical support, a complete reference manual.
How Many Installs Do I Need?
---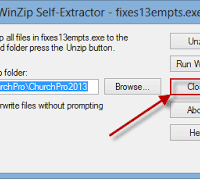 Included with a Single User License: The primary user is allowed two installs: one on their church computer and one on their laptop/home computer so that they may work away from the church if necessary. This applies to the primary user only. The primary user will be identified as the person who mostly uses the church copy. The pastor will receive a free install on his/her laptop/home computer. In order to network ChurchPro you will need to purchase an additional church license for each computer at the church on which you want to run ChurchPro.
Additional Licenses: Every additional install that you purchase will allow you to install ChurchPro onto one additional computer.
ChurchPro Online
---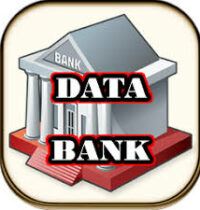 ChurchPro Online is a monthly cost. The cost will be $39.95/month for one username and password and $14.95/month for every additional username that needs to use the program at the same time. If you do not need to have users that use the program at the same time, you may have several people using the program at different times for only $39.95 month and a single setup fee of $100. Setup fee for 2 or more users is free. Upgrades are free and tech support for ChurchPro Online is only $120 a year. For upgraders only: Once the seal is broken and you have upgraded you data no refunds will be issued.
Refund Policy
---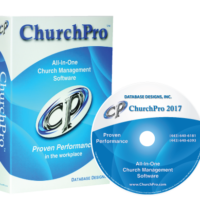 Database Designs gives you a liberal 30 day return policy for NEW users only. No returns will be accepted after 30 days from date of purchase. To return a package you will need an RMA number. Shipping cost will be the responsibility of the buyer. To obtain an RMA number you will need to contact Database Designs.
Call us if you have any additional questions: 443-640-6181
Copyright © 2016 Database Designs, Inc.
Here are a few reviews:
---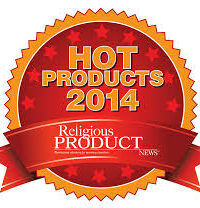 "Mountain View United Methodist Church in Forest, Virginia has been using your ChurchPro technical support since 2007 and without a doubt, it is by far and away, the best technical support I have ever worked with. I have been using various support services for over thirty years and for the most part, dealing with these services has been exasperating.
The majority of time, when I call ChurchPro, tech support staff answers right away and if they are not available, they call back within a short period. They listen when I explain my problem and do not "repeat it back to me" as most tech support people do. They always either help me to fix the problem or do it for me. They are ever pleasant and treat me as though they know me even though I do not have a need to call them often.
I sincerely recommend the ChurchPro Program and applaud their tech support team."
-Brantley from Forest, VA
"As minister of finance, this is my fifteenth year using ChurchPro software. The software programming is strong, yet functionally easy to use. The tech support is the best and they are always very cordial. If you have a question or a problem with the program, they take your issue seriously and resolve to fix it quickly. ChurchPro has the functions of a local church in mind and I highly recommend this program for all who work in church management and accounting."
-Ron from Kinston, NC
"After working with two-three different computer programs to get the job done as church treasurer, I finally found ChurchPro after spending 25 plus hours a week in completing my job as treasurer using the older software programs. ChurchPro happened to perform miracles only necessitating me to spend no more than two hours a week using their software and allowing me to have a life again."
-Fred from Big Stone Gap, VA
"I have been a user of ChurchPro since January 2011 and have found the program to operate to its full purpose. I depend on it daily and it has never not met my expectations; I am very well pleased and will continue to use it in future years to come. The tech support has always been very pleasant to work with."
-Sherry from Athens, GA
"ChurchPro and School Perfect has been a great asset for our church and school. It meets our accounting needs at a very affordable price. The technical support team has always helped me and has educated me greatly on this product."
-Marvin from Hamlet, NC
Please Leave All Comments in the Comment Box Below ↓
---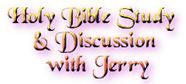 ---