Originally published as 24 newspaper columns from 1859 to 1861, Mrs Beeton's Book of Household Management was at first a guide to managing a household. Today it is a fascinating look at the past and a guide to forgotten skills that can be used today.
This post contains affiliate links, which mean if you use these links to purchase an item or service I receive a commission at no extra cost to you. Visit my Affiliate Disclaimer page here.
Included Chapters
---
Beeton wrote, "As with the commander of an army, or the leader of any enterprise, so is it with the mistress of a house." Running an extravagant household was a monumental task and a responsibility not to be taken lightly. It meant supervising every employee, from the butler to the laundry-maid to the footman and the wet nurse. It meant managing the safety, happiness, comfort, and well-being of the family. Chapters include: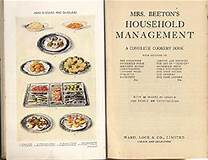 The Housekeeper
Arrangement and Economy of the Kitchen
Introduction to Cooker
General Directions for Making Soup
Recipes: Fish
Recipes: Pork and Ham
Recipes: Poultry and Rabbit
And much more!
In addition to offering advice on a wide range of domestic topics, this abridged edition of Mrs. Beeton's Book of Household Management contains hundreds of original recipes. A compendium of practical information about everything from animal husbandry to child care, this Victorian classic is both fascinating and still useful.
Sarah A. Chrisman, author of Victorian Secrets and This Victorian Life provides the foreword, reflecting on how she uses Mrs. Beeton's advice on a daily basis.
About the Author
---

Isabella Beeton was born Isabella Mary Mayson (1836–1865). After marrying a London publisher, she wrote domestic columns and translated French texts. Her first work was published when she was twenty-two. She died at the age of twenty-five of an infection she contracted during the birth of her fourth child.
Sarah A. Chrisman is the author of Victorian Secrets and This Victorian Life, as well as the editor of True Ladies & Proper Gentlemen. Alongside her husband, Gabriel, she gives presentations on nineteenth-century fashion and culture. She resides in Port Townsend, Washington.
Product details
---

Hardcover: 320 pages
Publisher: Skyhorse; abridged edition edition (November 3, 2015)
Language: English
ISBN-10: 1634502426
ISBN-13: 978-1634502429
Product Dimensions: 6 x 1.2 x 8 inches
Shipping Weight: 1 pounds (View shipping rates and policies)
Customer Reviews:    

19 customer reviews

Amazon Best Sellers Rank: #93,894 in Books (See Top 100 in Books)

#93

 

in Small Homes & Cottages

#114

 

in Garden Design (Books)

#67

 

in Herb Gardening
Customer reviews
---
 Abridged Version Missing Reference Illustrations in Recipes
Reviewed in the United States on April 21, 2016
This abridged version is ok for a quick read, however, many recipes reference "how-to" illustrations that are not included in the book thereby rendering them useless. For example the directions for preparing and cutting fish and various meats tell you to reference an illustration that is simply not there in this version. There are unabridged versions of the book (in hardback as well) for around $5 more than this version. I would recommend the unabridged if you think you might want to try some of the recipes. If not, then this book will do.
—————————————————————————————————————————————–
Reviewed in the United Kingdom on August 31, 2018
It is not for nothing that Mrs Beeton's book has now passed into everyday speech and remains a remarkable book. Whilst much of it is of more historical interest than present day use (the section on how many servants you can afford according to your income in 1861 and indeed how much to pay them is quaint and interesting but hardly relevant today), I was give this book at age 18 by my mother in order to learn how to cook for myself at College and it worked! In addition there is some useful parenting advice as well as what you can expect in terms of behavior from your children: useful even today! This edition may be smaller than I expected in terms of format (the one I had was far larger, almost A4 size), the contents remain the same. Fascinating piece of history that remains useful.
—————————————————————————————————————————————–
Reviewed in the United Kingdom on May 15, 2016
Bought this to aid research into my family history chapter on '200 years of food and cookery' . Found myself giggling at Mrs Beetons 'advice' to ladies and servants, but also found it a fascinating wealth of information.
Now I've been asked to cater a Victoria dinner evening next year, so what better than a Victorian recipe book? I can now understand why this book is still in print, and is still popular o er 100 years after it was written! She was a real pioneer in cookery terms.
—————————————————————————————————————————————–
Everything Old Is New Again
Reviewed in the United States on September 25, 2016
We bought this as a goofy wedding gift for our recently-wed, millennial daughter. We hoped she'd enjoy reading both ironically, and for it's surprisingly useful insights.
—————————————————————————————————————————————–
This is the abridged version with much fewer recipes
Reviewed in the United States on November 16, 2015
I should have read the description more closely. This is the abridged version with much fewer recipes than the full version. It's still got all the household management stuff if that's what you are interested in but not many recipes which is what I was after
Mrs Beeton's Book of Household Management
Please Leave All Comments in the Comment Box Below ↓

 
---